Copies of mixed media artwork is available!
Artwork on playing cards now available here.
---
Work now available on Redbubble
https://www.redbubble.com/people/kathypegel/shop
---
Animal prints available by request or on in my store.
These pieces were done with India ink on paper and are available as individuals or in series.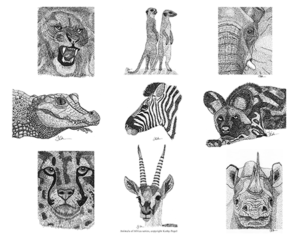 Animals of Africa series.
---
Copy of my illustrated book Rachet the Rabbit can be found here.
---
A copy of my illustrated book Oestra's Bunny is now available in print and kindle.
Click here for the Amazon link